Conference at Clementi in collaboration with Sikyon E.E.C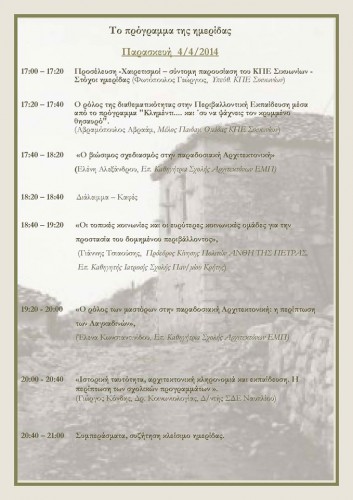 On April 4, 2014, the first educational activity for teachers of Secondary Education in the form of one-day seminar took place in Klimenti, Corinthia at the headquarters of the Lifelong Learning Center for the Environment and the Sustainability of Sikyon (Sikyon E.E.C) on their initiative. Anthi Tis Petras President Giannis Tsiaousis, General Secretary and Assistant Professor at NTUA School of Architecture Elena Konstantinidou and Eleni Alexandrou, Assistant Professor at NTUA School of Architecture gave presentations.
In addition, teachers Giorgos Fotopoulos, Avraam Avramopoulos and Giorgos Kondis presented their experiences on the role of interdisciplinarity in environmental education through the educational program that they had designed and implemented. Furthermore, all the speakers highlighted the importance of architectural heritage within this educational context. A significant number of teachers in Corinthia attended this one-day seminar and the presentations were followed by a highly productive discussion.